Since January is 7 days old, I'm sure you've already started running, you're eating healthier and are meditating daily. But how is your digital self? Still bloated, unsafe and out of shape?
Start this year with a health check of your digital identity – and get in shape, be happier and healthier!
Step 1: Clean up your app permissions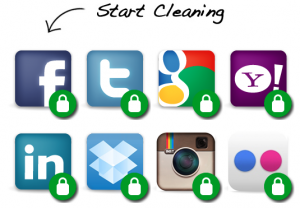 Great news: it's not even difficult – a great new service mypermissions.org gives you direct access to app management with all the most popular services. One-click assess to the listing of apps you've allowed access to your accounts. From there it's easy-peasy: click "Remove permission" for everything you aren't sure you're using anymore. My advice: Rather remove too many than too few – you can always grant permission again if needed.
Personally I've been very strict with my Facebook permissions – so not much clean-up to take of there, but it seemed every other service on the internet had access to my Twitter and Flickr accounts. But not anymore!
And in case you're wondering (as you should) about security mypermissions.org does not ask for any of your passwords, it just provides you with easy access to manage you own permissions!
When you're ready for the next step: It's time to clean up your past!