Bett 2013 is off to a great start. It's even bigger than I remember from 2010, when I was last here – and has moves to a new venue: The ExCel, which is great – they have space to breathe, food that hasn't been packed in plastic for days, and plenty of coffee stands! Wifi still sucks big time – I only managed to get on one of the networks around 16:00 *argh*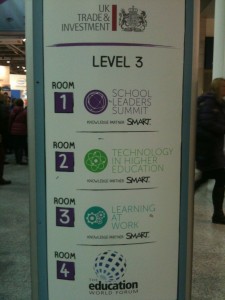 The main event is the enormous tradeshow showing off everything you never knew you didn't need for teaching with technology – demonstrations, show & tell, talks and in the #bettarena some very big names. Parallel to this there are the conferences: Higher Education, Learning at work, School Leaders Summit. Those were a bit hard to find – and I did get sent off to the galleries at the other side of the show, before I remembered I took a note-to-self photo in the hall coming in. That helped…
"Running your university like a business" wasn't the fast-paced excitement I was going for, or even just un-snoozy (maybe one should have been there from the beginning?) so I went next door to the "Learning at work" conference.
Susan Greenfield: Future Learning trends for a digital age: How are people learning. She is a professor of synaptic pharmacology – and hence interested in what goes on inside our heads. Literally. When it comes to the internet, she definitely comes down on the skeptical side, if not downright negative.Her worry is, that our brains are highly adaptive, and will adapt to most any environment. So what happens to our brains, when more and more of us are living in a two-dimensional environment, and most of the time only using 2 of our senses: visual and auditive. Her answer: our brains will adapt. In stead of developing from sensitive to cognitive – we're from now going back to senses and the underdeveloped pre-frontal cortex and hence bad impulse control of childhood, obesity, gambling, schizofrenia.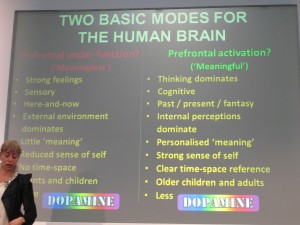 She claims: Our minds are changing – she actually compares this to the challenge of climate change!
…a source who shall remain unnamed to protect the innocent (that is not necessecarily the source) told me later in the day, that the more internet-positive crowd refer to her as Baroness Bonkers?!
Whatever the nickname – it is always interesting to discuss what the internet is doing to our brains…
Next up was Jane Daly, Head of Learning and Development at Marks & Spencer giving some very sound advise on Learning & development plans.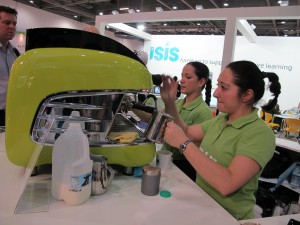 Unfortunately the "Big Data"-session with Michael Wrightson was cancelled, but that left time for a coffee – and the shop had a looong line, but the lovely ladies in green had the shortest line, for what turned out to be the free coffee – bless those sponsors!
More highlights of day 1: Daphne Koller of Coursera (twice!) and the dynamic duo of Flipped Learning Fame – but more about that in another post.
I also had time to look at a bit of the tech gizmos and general craziness at the trade show – and catching the end of Steve Wheeler (aka @timbuckteeth): Motivating and engaging students: Delivering an active and participatory student experience.
Conclusions after day 1: If you're intersted in learning and technology – and anywhere near London: The show is on until saturday, it's free  – and there are more goodies to come, so make it to the ExCel if you can!