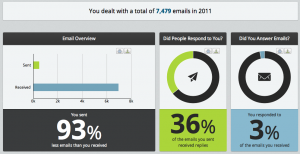 With all your good intensions of keeping your inbox down to zero, burdening your fellow humans with less email, and spending less of your valuable time reading automated emails – ever wonder how you're really doing? I did, and here's my numbers:
I dealt with 7,479 emails this year, but at least I sent 93% less emails than I received by only responding to 3 % of my mail. Still I sent 42 emails a month, or 10 a week – and apparently I mostly deal with my private email between 10 and 11 PM.
I have been weeding out the newsletters I didn't read anyway, and annoying notification emails – so the numbers might be changing already – but given the numbers I think I'll re-check my email settings – because seriously I have better use of my time, than deleting 335 emails from Facebook and 390 from Twitter.  My four worst spammers are: Twitter, Facebook, Foursquare, Quora and Twunfollow – and those accounted for 1,253 of my emails this year. And I'm not gonna take the abuse next year…
Wonder how your keeping up with your own email manifesto? Well if you're brave and dare  let some strangers robot sift through you email, then get your own stats from Toutapp see more about the app on Mashable.
Personally I figured Google knows everything already, so why the hell not… Information want's to be free and all that jazz.